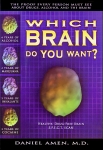 The proof every person must see about drugs, alcohol and the brain!
SEE FOR YOURSELF on DVD how drugs and alcohol damage your brain . . .
Meet five young people from different backgrounds, with different levels of substance abuse, including two who chose to stay clear of drugs or alcohol.
Hear their stories and learn about the impact their choices have had on the quality of their lives.
Next, look at the scans of their brains. See for yourself how their choices; good or bad; have affected the health of their brains.
The candid conversations between these young people and Dr. Daniel Amen, a pioneer in the use of brain scans, are revealing. They want to know if it's too late . . . and they want another chance . . . now that they realize they DO have a choice.
The question echoes in their ears . . . Which Brain Do You Want?
This powerful, high-energy production includes . . .
* How the brain works
* How the brain is involved in everything you do
* What happens when the brain "misfires"
* The physical impact of drugs and alcohol on brain function
* How to improve your brain
I have this DVD and it is . . .
A MUST-SEE FOR PARENTS AND TEACHERS WHO WANT TEENS TO KNOW THE TRUTH ABOUT DRUGS AND ALCOHOL!