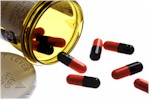 Recent research in The Lancet, written by Dr Alex Mitchell of University of Leicester together with Dr Amol Vaze, and Dr Sanajay Rao of Leicester Partnership Trust, reported on errors in the diagnosis of depression.
The study pooled 41 trials from nine countries that used robust outcome standard of a semi-structured interview to assess depression. The researchers found that General Practioners (GPs) were able to recognize only half of people who had clinical depression. In the worst case scenario false diagnoses could outnumber true diagnoses three to one.
Good reason to get a second opinion!
Or better yet, how about seeing an integrative or "holistic" doctor who will try to discover what is really causing the symptoms and then treat appropriately.