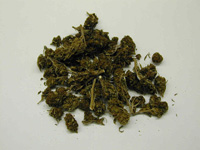 Researchers from Emory's Rollins School of Public Health and Georgia State University have stated that daily marijuana use in adolescence may hasten symptoms of psychosis. The study was published in the November issue of the American Journal of Psychiatry.
The researchers analyzed data from 109 hospitalized patients who were experiencing their first psychotic episode. The results showed that patients who had a history of using marijuana, or cannabis, and increased to daily pot smoking experienced both psychotic and pre-psychotic symptoms at earlier ages.
"We were surprised that it wasn't just whether or not they used cannabis in adolescence that predicted the age of onset, rather it was how quickly they progressed to becoming a daily cannabis user that was the stronger predictor," said Michael Compton, lead author and assistant professor of psychiatry in the Emory School of Medicine.