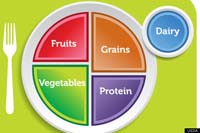 The USDA's new food icon is not a pyramid this time but is a brightly colored plate that breaks a healthy diet into four main sections: fruits, vegetables, grains and proteins, with a small side of dairy.
NOTE: There is one very important section missing! Where are the healthy fats? Items such as omega-3 fish oil and olive oil and coconut oil are important to your health (buy organic as much as possible).
It replaces the old Food Guide Pyramid, first launched in the early 1990s, then revamped in 2005. It was just too difficult for people to understand.
Toby Smithson, R.D., a national spokesperson for the American Dietetic Association stated that the plate is an improvement because it's easy for non-readers to understand, which means young kids can learn the message early on and carry it with them throughout their lives.
The new food plate image reflects the 2010 Dietary Guidelines for Americans, which promote measures like switching to fat-free or low-fat milk and opting for water over sugary drinks. The guidelines also recommend making sure that half your plate is filled with fruits and veggies — a recommendation that is one of the major points highlighted by the new graphic. You can download that report here: US Dietary Guidelines.pdf
Remember that the size of your plate matters and you should probably use eight or nine-inch plates. People should be paying attention to the different food groups, but they should also be watching their serving sizes.