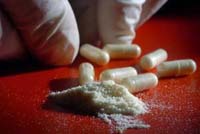 Molly is the street name for a drug that is pushed as the pure powder form of a banned substance known as MDMA, the main chemical in ecstasy. In the last five years, Molly has made its way into popular culture, helped by references to it made by various entertainers.
If you're in your twenties and frequent music events such as raves — you have more than likely encountered the drug. While ecstasy was popular in underground nightclub raves in the nineties, molly has become the drug of choice for millennials. Every generation is characterized by one drug or another: the sixties and seventies with pot and hallucinogenics, the eighties with cocaine, and so on.
The Drug Enforcement Administration (DEA) considers MDMA to be a Schedule I controlled substance, which means it has a high potential for abuse, and no accepted use in medical treatment. The DEA notes that MDMA can cause confusion, anxiety, depression, paranoia, sleep problems, and drug craving.