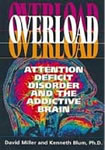 A counselor and a scientist collaborated on a book – "Overload" – to show that there is a vital connection between attention deficit disorder and addiction.
David Miller, a counselor, had struggled with his own ADHD and alcoholism.
Kenneth Blum, PhD, a renowned neuroscientist credited with the co-discovery (with Dr. Ernest Noble of UCLA and former director of The National Institute on Alcoholism and Alcohol Abuse (NIAAA)) of the first genetic association of the dopamine D2 receptor gene with severe alcoholism.
Some of the findings I learned include:
* Significantly more children with attention deficit hyperactivity disorder (ADHD) develop problems with alcoholism or drug addiction than do children without ADHD.
* The D2 receptor gene is associated with a variety of impulsive, compulsive, addictive behaviors, including the use of crack cocaine, smoking, and attention deficit hyperactivity disorder. Dr. Blum gave a name to this complex condition – reward deficiency syndrome (RDS). This relates to the deficiency in the reward part of the brain where dopamine works.
* Some people are born with the D2 receptor gene and therefore more susceptible to becoming addicted than other people. People with a genetic predisposition are not predestined to develop addiction, but they are of high risk because of reward deficiency and because of the way their bodies respond to mood-altering substances or behaviors.
* The probability that people with a reward deficiency will self medicate regularly is great. People will use whatever works best for them to relieve their discomfort – whether it is alcohol, cocaine, marijuana or other drugs.
* Recovery from the damage of addiction requires abstinence. But here is the catch – brain chemistry is altered by alcohol and drug abuse and the damage interferes with the ability to abstain. The number of brain neurotransmitter receptor sites has decreased and the reward deficiency is more severe than before addictive use began.
Unfortunately, relief is short-lived as the pain of addictive living returns. It is of vital importance, then, to get treatment for both ADHD and addiction in order to manage both conditions to stay sober and healthy.
Learn more about alternative ADHD treatment here >>
All people should be thoroughly lab tested before any treatment is given.
If you don't test, you've guessed!