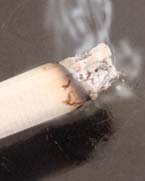 From past research, it's known that the children of mothers who smoked during pregnancy are at greater risk of ADHD (Attention Deficit Hyperactivity Disorder).
Young people with ADHD are not only at increased risk of starting to smoke cigarettes, they also tend to become more seriously addicted to nicotine and more vulnerable to environmental factors such as having friends or parents who smoke.
It appears that those with more ADHD related symptoms such as prominent inattention, distraction, overactivity or impulsivity of the smokers, the more serious their dependence on nicotine.
Dr. Timothy Wilens, Associate Professor of Psychiatry at Harvard Medical School and co-author of a recent study, stated that, "it looks like interplay between the dopamine system, more substantially related to ADHD and addiction, and the cholinergic system related to smoking is probably important". (The study was supported in part by the National Institute on Drug Abuse.)
More information at the Journal of Pediatrics
This information, to me, is further support of an individual "self medicating" to try and feel better when their brain is chemically out of balance and the neurotransmitters are not working correctly. This is the case whether it is ADHD or drug abuse.
It is critically important to heal the brain first in any drug abuse recovery program.
Learn how you can overcome a drug habit including alcohol, smoking and other drug abuse such as marijuana and meth >> Drug Addiction Alternatives