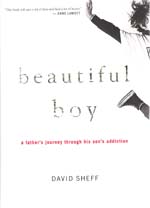 The book, Beautiful Boy, by David Sheff, is a heartbreaking and wrenching story of a father's journey through his son's drug addiction. He states that he was addicted to his son's addiction. Any parent who has had a child abuse drugs will be able to identify with this story.
I know I did. Even though my son did not use Meth (thank God) and did not disappear for weeks at a time on the streets, there were still many anxious moments wondering if he was OK.
David Sheff mentions early on how he confronted his son, Nic, about smoking Pot (Marijuana) and at first Nic lies and denies it. Then Nic admits that he is using some drugs "like everyone," "just pot," and only "once in a while."
Over time, Nic gets more and more involved in using drugs including Meth and is in and out of rehab several times. Nic is in denial that he is an addict.
In recovery, Nic Sheff states that "a using addict cannot trust his own brain – it lies, says, 'You can have one drink, a joint, a single line, just one.'" Nic learned that he could not trust his own brain.

Many street drugs including Meth, provide a rush of dopamine in the brain which creates euphoria and that is why people enjoy it. But the withdrawal "crash" often leads to depression and anxiety. The addict is in a continual search for the next "high".
A friend told the author that "the rehab industry is like the auto repair industry, they want you to come back. And people always do. It's a thriving industry because no one gets well."
My own research has shown that most drug treatment programs have a low success rate of 25% or less.
But there are treatment programs that attain a success rate of 75% or more and my product outlines how that is possible.
Review:
Overcoming Drug Addictions