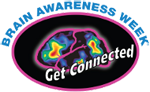 Brain Awareness Week (BAW) (March 16-22) is an international campaign dedicated to advancing public awareness about the progress and benefits of brain research. Founded and coordinated by the Dana Alliance for Brain Initiatives and its sister organization, the European Dana Alliance for the Brain, BAW is now entering its fourteenth year as a catalyst for public understanding of brain science. The Dana Alliances are joined in the campaign by partners from around the world, including universities, hospitals, patient groups, government agencies, schools, service organizations, and professional associations.
Brain Awareness Week began in 1996 as a modest effort involving 160 organizations in the United States. BAW was created to bring together diverse groups from academia, government, professional, and advocacy groups and unite them with a common theme that brain research is the hope for treatments and preventions, and possibly cures, for brain diseases and disorders, and to ensure a better quality of life at all ages. In 1998, the campaign became international, first as a day and then as a week. Since that time, BAW has evolved into a powerful global initiative with more than 2,200 partners in 76 countries (as of the 2008 campaign).
During Brain Awareness Week, campaign partners share one thing in common: the desire to convey the wonders of the brain and nervous system and the far-reaching influences and outcomes of neuroscience research to the public through exciting and innovative activities. These include open days at neuroscience laboratories; museum exhibitions about the brain; lectures on an array of brain-related topics; displays at malls, libraries, and community centers; classroom workshops; and many other activities and programs.
More info: www.dana.org/brainweek