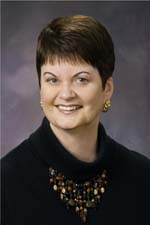 Renee Zito spoke at the "Brain Repair" conference I attended last month. She was appointed Director of the California Department of Alcohol and Drug Programs by Governor Arnold Schwarzenegger on February 22, 2007. In her role, she leads the State's alcohol and drug treatment and prevention efforts. She oversees approximately 300 employees in the Department and is responsible for an annual budget of $600 million, which includes funding for both the federal Substance abuse Prevention and Treatment (SAPT) Block Grant and the Drug Medi-Cal program.
Ms. Zito supports successful drug court programs such as the Sacramento Drug Court Program which has saved the taxpayers millions of dollars. Instead of pharmaceutical bandaids, Sacramento actually cures the core reason for the drug addiction with the emphasis on brain repair with specific nutritional supplements. For more info see:   Drug Court Program
Renee's extensive background in the drug treatment field brings a unique perspective to the Department of Alcohol and Drug Programs. Renee previously served as director of programs at Marin Services for Women since 2000, where she oversaw and managed the staff for the residential and outpatient programs, housing and education services, as well as the admission department. She also served as executive director of Hazelden Alcohol and Drug Addiction Treatment Center in New York as well as other positions.
For additional information on supplements that can help you overcome alcohol and drug addictions including tobacco,End Your Addiction Now: The Proven Nutritional Supplement Program That Can Set You Free
.
For an alternate natural method to overcome addiction  Click Here .