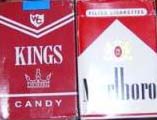 Candy cigarettes predispose children who play with them to smoke the real things later.
Research by Jonathan Klein of the University of Rochester published in the journal Preventive Medicine in 2007 proved this was true.
"The continued existence of these products helps promote smoking as a culturally or socially acceptable activity," Klein stated. The look-alikes made of candy or gum are marketing and advertising tools that desensitize kids and open them more so to the idea of smoking later on.
A group of St. Paul, MN kids have turned into lobbyists, and Wednesday (March 18th) they won their first battle as the St. Paul City Council introduced a proposed citywide ban on the sale of edible "imitation tobacco products." A public hearing is scheduled for April 1, 2009.
More info: www.twincities.com/news/ci_11945823
Good luck to those kids!