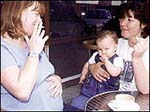 There is a greater risk of teenagers developing psychotic symptoms if their mothers smoked during the pregnancy. There is a direct link between tobacco use by mothers and psychotic symptoms which is being shown by new researched published in the October issue of the British Journal of Psychiatry.
Researchers from several universities in Britain (Cardiff, Bristol, Warwick, Nottingham) studied 6300 12-year olds for psychotic-like symptoms (i.e., delusions, hallucinations). Just over 11% (or 734 children), showed definite or suspected symptoms of psychosis.
There is no doubt that smoking during pregnancy marks an increased risk of psychotic symptoms in children as found by the researchers.