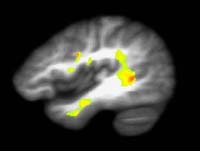 Research appearing in the January 2009 issue of the Journal of Psychiatric Research shows that teenagers who are heavy users of marijuana are more likely than non-users to have disrupted brain development.
In the photo, the yellow areas in the brain of a heavy marijuana smoker show brain regions with the most significant abnormalities. These areas correspond with those under development during normal adolescent years. (Credit: The Children's Hospital of Philadelphia)
Pediatric researchers found abnormalities in areas of the brain that interconnect brain regions involved in memory, attention, decision-making, language and executive functioning skills. The findings are of particular concern because adolescence is a crucial period for brain development and maturation.