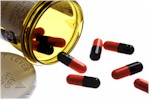 Street drugs such as heroin or crack cocaine are more likely to be used by the poor, whereas prescription drugs are more likely used by the rich.
Actor Heath Ledger died from 'acute intoxication' caused by an overdose of prescription drugs. Other celebrities have also been in the spotlight news such as Rush Limbaugh, Britney Spears, and Lindsay Lohan.
It has been reported that the misuse of prescriptions leads to prescription drugs addiction and now kills more Americans than illegal street drugs, approximately 20,000 a year, which is double 10 years ago.
According to the 2006 National Survey on Drug Use and Health about teenagers aged 12-17, prescription drugs are second only to marijuana in popularity, and in the past 15 years there has been a 140 per cent increase in abuse. It is the fastest-growing type of drug abuse in the US.

3 Categories of Prescription Medications
The most commonly abused prescription medications fall into three categories: 1)opiate-based painkillers (OxyContin and Percocet); 2)central nervous system (CNS) depressants prescribed for anxiety and sleep disorders (Valium and Xanax); and 3)stimulants, used to treat attention deficit disorders (Ritalin and Adderall).
Make sure you are vigilant around family members that they are not abusing prescription drugs. Keep any drugs out of sight.
Alternative Medicine Solutions for Drug Addictions