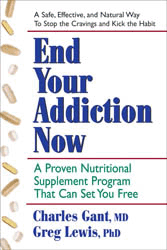 Dr. Charles Gant's new book has just been released. I have read it and it is excellent.
Order now at Amazon:
End Your Addiction Now: A Proven Nutritional Supplement Program That Can Set You Free
Here is the write up from the publisher about the book:
Whether it is to alcohol, drugs, smoking, or food, addiction is an overwhelming and destructive force that negatively impacts the lives of those in its grip. While there are programs galore that promise an end to these dependencies, the truth is, far too many "reformed" addicts fall right back into their old habits.
Why?
Because powerful biochemical factors override the psychological will to quit. End Your Addiction Now is a unique book that not only explores the real cause of this recurring problem, but also offers a proven biochemical approach that can break addiction once and for all.
Written in easy-to-understand language, End Your Addiction Now is based upon the extensive research and medical practice of Dr. Charles Gant and other pioneers in the field of orthomolecular medicine. It both guides readers to physicians and facilities that support a biochemical approach to the treatment of substance-use disorders, and provides step-by-step directions for those who want to quit their addictions on their own.
At the heart of Dr. Gant's approach is a unique "Quick-Start" program of nutritional supplements. After completing a questionnaire to determine which key brain chemical disruptions are causing their substance cravings, moods, and behaviors, readers are given a targeted list of nutritional supplements designed to jump-start their recovery–supplements that help reduce cravings within twenty-four to seventy-two hours.
The book then walks readers through a natural process of detoxification and additional biochemical testing to establish a complete biochemical profile.
Finally, it addresses the specific nutritional deficiencies that must be addressed for a full psychological and spiritual recovery.
More information about Dr Gant
Order book now at Amazon:
End Your Addiction Now: A Proven Nutritional Supplement Program That Can Set You Free