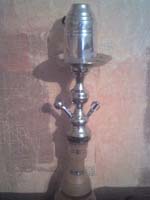 A Hookah is a water pipe device used for smoking and more U.S. college students are smoking tobacco using the device. (Egyptian Hookah pictured)
It is becoming a growing public health issue, according to a new study led by a Virginia Commonwealth University researcher, Thomas Eissenberg, Ph.D.
The research was reported in the May issue of The Journal of Adolescent Health which is the official journal of The Society of Adolescent Medicine.
In a hookah, tobacco is heated by charcoal, and the resulting smoke is passed through a water-filled chamber, cooling the smoke before it reaches the smoker.
More info about Hookah's at Wikipedia
Some waterpipe users perceive this method of smoking tobacco as less harmful and addictive than cigarette smoking.
The World Health Organization Study Group on Tobacco Product Regulation (TobReg) presented an advisory note in 2005 on hookah tobacco smoking and concluded that "waterpipe smoking is associated with many of the same health risks as cigarette smoking, and may, in fact, involve some unique health risks" and recommends that "waterpipes and waterpipe tobacco should be subjected to the same regulation as cigarettes and other tobacco products."
In the future, researchers may be able to determine the role that waterpipe use among youth may serve as a 'gateway' for use of other tobacco products or psychoactive substances.
To overcome your smoking and nicotine addiction, click >> formulatedsupplements.com/Nicotine-Cessation-Supplements.html