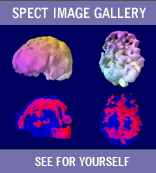 Dr. Daniel Amen is a pioneer in brain imaging. He has written numerous books including, Change your Brain, Change Your Life. He has taken thousands of brain scans comparing normal brains and "drug abused" brains and his work indicates that brain scans of people who have abused drugs showed abnormalities.
The Amen Clinic has a SPECT Image gallery that contains fully animated 3-D images as a learning resource. Each animation is presented in a full 360 degree rotation.
There are comparisons of normal brain images and brains that have been affected by alcohol and drugs.
The images will impact you.
Click resource >> amenclinics.com