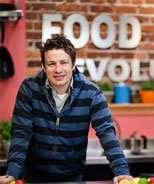 Fast foods and sugar addiction leads to obesity and British celebrity chef Jamie Oliver is starting a "Food Revolution" in the U.S. to change the obesity health problem we have.
Huntington, West Virginia has been listed by the Center for Disease Control (CDC) as the nation's unhealthiest city and that is where Jamie is starting his campaign. Jamie encounters a lot of resistance by the locals and the school meal program managed by the USDA is a disaster but he is determined to overcome.
His show is a six-part TV series co-produced by Ryan Seacrest of American Idol fame and is on ABC Friday evenings. I encourage you to watch.
The Food Revolution website has a petition with a call to save cooking skills and improve school food. Jamie plans to present the petition to President Obama and the first lady to ask for support. The last I checked, over 164,000 had signed.
For more info about Jamie see: www.jamieoliver.com/tv
Jamie won the 2010 TEDPrize: www.tedprize.org/jamie-oliver
Jamie Oliver's Wish
"I wish for your help to create a strong, sustainable movement to educate every child about food, inspire families to cook again and empower people everywhere to fight obesity."
See his inspiring TED presentation below:
(If you can not see the video below, go to this link: ted.com/talks/lang/eng/jamie_oliver.html
Also, see a related post I made about Barbara Reed Stitt, author of Food and Behavior. nutrition-and-behavior
Dr. Stitt approached her local school with an offer that was as unusual as it was generous. Take out the vending machines, take out the processed foods, and she will feed the students fresh, whole, nutritious food. The children's behavior changed dramatically and was so consistently good the superintendent of the entire school district of 15,000 students took note and made all his schools change to wholesome food.
This program is dramatic evidence that food can make a difference in your behavior . Make sure you are getting the nutrition you need to overcome a drug abuse or addiction problem and have optimal health.
Here is another resource: End Your Addiction Now