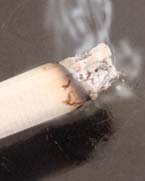 A UC Riverside study shows that smoke from "light" or "low-yield" harm-reduction cigarettes retains toxicity and that this toxicity can affect prenatal development.
The research also studied the effects of two kinds of cigarette smoke: mainstream smoke, which is smoke actively inhaled by smokers; and sidestream smoke, which is smoke that burns off the end of a cigarette.
Tobacco companies market harm-reduction cigarettes as being safer than traditional "full-flavored" brands, leading many smokers to conclude that the use of harm-reduction brands lowers their exposure to toxicants.
"Many chemicals found in harm-reduction cigarette smoke have not been tested, and some are listed by manufacturers as safe," said Prue Talbot, a professor of cell biology who led the study. "But our tests clearly show that these chemicals adversely affect reproduction and associated development processes. Pregnant women would be particularly vulnerable to the effect of smoke from these cigarettes."
Study results appear in the journal Human Reproduction (January 2009)
Learn how you can quit smoking and kick your nicotine addiction now. >> How To Quit Smoking