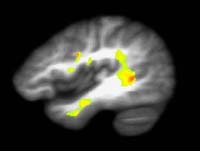 Research appearing in the January 2009 issue of the Journal of Psychiatric Research shows that teenagers who are heavy users of marijuana are more likely than non-users to have disrupted brain development.
In the photo, the yellow areas in the brain of a heavy marijuana smoker show brain regions with the most significant abnormalities. These areas correspond with those under development during normal adolescent years. (Credit: The Children's Hospital of Philadelphia)
Pediatric researchers found abnormalities in areas of the brain that interconnect brain regions involved in memory, attention, decision-making, language and executive functioning skills. The findings are of particular concern because adolescence is a crucial period for brain development and maturation.
The study team performed a type of magnetic resonance imaging scan called diffusion tensor imaging (DTI) that measures water movement through brain tissues. The abnormal patterns of water diffusion found among the young men with histories of marijuana use suggest damage or an arrest in development of the myelin sheath that surrounds brain cells. Myelin provides a coating around brain cells similar to insulation covering an electrical wire. If myelin does not function properly, signaling within the brain may be slower.
The National Institute of Mental Health provided grant support for this research. The study leader was Manzar Ashtari, Ph.D., director of the Diffusion Image Analysis and Brain Morphometry Laboratory in the Radiology Department of The Children's Hospital of Philadelphia.
More info on how to overcome marijuana addiction >> Alternative Drug Recovery