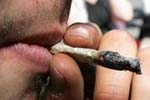 Researchers from the Cancer Biomarkers and Prevention Group, Department of Cancer Studies and Molecular Medicine and Karolinska Institute, Sweden, are reporting "convincing evidence" that marijuana smoke damages the genetic material DNA in ways that could increase the risk of cancer.
Marijuana (Cannabis) smoke contains 400 chemical compounds including 60 cannabinoids. Because of its lower combustibility than tobacco, it contains 50% more carcinogenic polycyclic aromatic hydrocarbons including naphthalene, benzanthracene, and benzopyrene, than tobacco smoke."
"The smoking of 3-4 marijuana cigarettes a day is associated with the same degree of damage to bronchial mucus membranes as 20 or more tobacco cigarettes a day," the researchers state.
The researchers add that the ability of cannabis smoke to damage DNA has significant human health implications especially as users tend to inhale more deeply than cigarette smokers, which increases respiratory burden.
Want to "kick" the habit? See: Addiction Solution Center