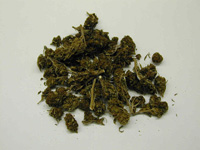 The immediate effects of smoking marijuana are mild euphoria and, often, drowsiness. Research shows that brain receptors respond to cannabis by releasing the feel-good neurotransmitter, dopamine. Cannabis's effects on judgment, coordination, and short-term memory make it inadvisable to drive, to operate heavy machinery, or to try to learn anything new while under its influence. This is due to the high concentration of cannabis receptors in both the hippocampus, the part of the brain that controls memory, and the cerebellum, the part of the brain that governs motor coordination. Moreover, these effects may actually last longer than those of alcohol.
Research on the effects of driving under the influence of cannabis concludes that cannabis-induced impairment persists from four to eight hours – long after the subjective effects have worn off. Ninety-four percent of subjects fail roadside sobriety tests 90 minutes after smoking, while 60 percent fail after 150 minutes. The effects from marijuana use last longer than is easily recognized, resulting in needless accidents.
Coping Without Marijuana
According to her book, Natural Highs, Dr. Hyla Cass states that young people who smoke their way through high school and continue through young adulthood are more likely to have emotional problems. They seem less able to cope with the stress and challenges of everyday life or to be able to plan appropriately for their futures. Their emotional development seems blunted: the marijuana fog may have prevented them from fully experiencing a complete range of emotions and relationships. Stoned, they miss the passages necessary for growing up and accepting their place in the adult world.
If you or a loved one are experiencing this, learn to cope naturally without "pot" or other street drugs. It is essential to your overall life.
Top books for research: astore.amazon.com