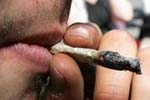 Marijuana is the most widely used illicit drug in the USA. Admissions in drug abuse treatment facilities in which marijuana was the primary problem substance have more than doubled since the early 1990s and now rank similar to cocaine and heroin with respect to total number of yearly treatment episodes in the United States.
Research by a group of scientists studying the effects of heavy marijuana use shows that withdrawal from the use of marijuana is similar to what is experienced by people when they quit smoking cigarettes. Abstinence from each of these drugs appears to cause several common symptoms, such as irritability, anger and trouble sleeping – based on a recent study of heavy users of both marijuana and cigarettes.
The lead investigator in the study was Ryan Vandrey, PhD, of the Department of Psychiatry at the Johns Hopkins University School of Medicine. The study appears in the January issue of the journal Drug and Alcohol Dependence.
More information:
www.sciencedaily.com/releases/2008/01/080124145015.htm
Learn how you can overcome your addictions including marijuana: Addiction Video Package