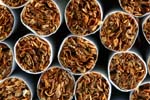 Smoking a joint is equivalent to 20 cigarettes in terms of lung cancer risk, and scientists have warned of an "epidemic" of lung cancers linked to cannabis (marijuana).
In an article published in the European Respiratory Journal, the scientists said cannabis could be expected to harm the airways more than tobacco as its smoke contained twice the level of carcinogens, such as polyaromatic hydrocarbons, compared with tobacco cigarettes.
The method of smoking also increases the risk, since joints are typically smoked without a proper filter and almost to the very tip, which increases the amount of smoke inhaled. The cannabis smoker inhales more deeply and for longer, facilitating the deposition of carcinogens in the airways.
Marijuana addiction is becoming a real problem.
More information on this research:
http://erj.ersjournals.com/cgi/content/abstract/31/2/280
To overcome your marijuana abuse/addiction, see our product: Alternative Drug Program