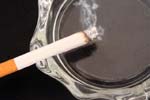 In a recent research report, Kristen Saxone-Moeller from the University of Melbourne, stated that Australians with mental illness smoke at four times the rate of the general population.
The research also found that:
* Smokers with mental illness consumed 50 per cent more cigarettes a day than the general population, averaging 22 cigarettes a day;
* The heaviest smokers in the group smoked up to 80 cigarettes in a day;
* Almost three in five (59 per cent) said they wanted to quit smoking;
* Almost three quarters (74 per cent) said they wanted to cut down;
"Smoking compounds many of the health problems already experienced by people with mental illnesses," she said. "Combined with drug therapies that often make them overweight, they are at even greater risk of diabetes, heart attacks and strokes if they smoke."
"The biggest cause of death among people with mental illness is not suicide, it is cardiovascular disease."
Overall cost to Australia showed more than $30 billion a year but little was being done to help people quit.
Smoking also placed a big financial imposition on the mentally ill because many spent more than 20 per cent of their income on cigarettes.
Doesn't it make sense that the mentally ill or anyone in a medical institution not be allowed to smoke?
Want to quit smoking: formulatedsupplements.com/Nicotine-Cessation-Supplements.html