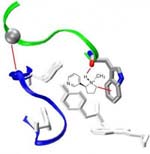 This molecular model shows nicotine (in center) binding to a brain receptor via a cation-À interaction. (Image Credit: Caltech/Dennis Dougherty) According to California Institute of Technology (Caltech) researchers, lead by Dennis Dougherty, Professor of Chemistry, there is a very small genetic difference between brain cells and muscle cells that alter the way that nicotine affects us.
The receptor nicotine binds to in the brain's neurons–a type of acetylcholine receptor, which also binds the neurotransmitter acetylcholine–is found in large numbers in muscle cells. Were nicotine to bind with those cells, it would cause muscles to contract with such force that the response would likely prove lethal.
The cause of this difference in binding potency, says Dougherty, is a single point mutation that occurs in the receptor near the key tryptophan amino acid that makes the cation-A interaction. "This one mutation means that, in the brain, nicotine can cozy up to this one particular tryptophan much more closely than it can in muscle cells," he explains. "And that is what allows the nicotine to make the strong cation-À interaction."
The research was supported by the National Institutes of Health and the California Tobacco-Related Disease Research Program of the University of California and reported in the journal Nature.
More info: sciencedaily.com/releases/2009/03/090323161121.htm
You can get started right away in your efforts to stop smoking by using specially formulated supplements that have proven 83% successful. Go here now for further information >> FormulatedSupplements.com/Smoking-Cessation.html