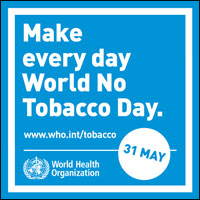 The theme of World No Tobacco Day 2009 is "Tobacco Health Warnings", with an emphasis on the picture warnings that have been shown to be particularly effective at making people aware of the health risks of tobacco use and convincing them to quit.
More and more countries are fighting back against the epidemic of tobacco by requiring that packages of tobacco show the dangers of the product's use, as called for in guidelines to the WHO (World Health Organization) Framework Convention on Tobacco Control.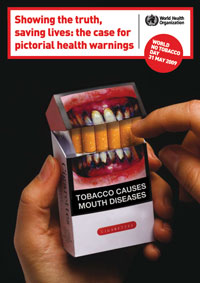 Tobacco companies spend tens of millions of dollars every year turning new users into addicts and keeping current users from quitting. Through advertising and promotional campaigns, including the use of carefully crafted package designs, the tobacco industry continues to divert attention from the deadly effects of its products.
Nicotine is a highly addictive substance. Warning people about its true risks can go a long way towards reducing tobacco addiction. Requiring warnings on tobacco packages is a simple, cheap and effective strategy that can vastly reduce tobacco use and save lives.
The most effective way to quit smoking is by using special supplements that target and heal the neurotransmitters in the brain. For more information check here >> Formulated Supplements to Stop Smoking