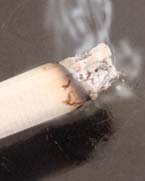 Even just one cigarette can have serious adverse effects on young adults, according to research conducted at the Canadian Cardiovascular Congress 2009. The study found that smoking one cigarette increases the stiffness of the arteries in the age group of 18-30 years by as much as 25%.
When arteries become stiff, this increases the risk for heart disease or stroke. The heart has to work harder when the arteries become stiff or rigid which increases resistance in the blood vessels. Even smoking just a few cigarettes a day can impact the health of the arteries. This was revealed in the study when the group of young people in the age range of 20-24 were placed under physical stress (e.g. exercise).
The study compared the arterial stiffness of young smokers (five to six cigarettes a day) to non-smokers. The median age being 21 years. The initial arterial stress test established a baseline measurement for both the non-smokers and the smokers. The smokers were asked not to smoke for 12 hrs prior to the test. The smokers smoked one cigarette each and then repeated the stress test. During the final test, the smokers were asked to chew a piece of nicotine gum prior to the stress test. After the exercise the arterial stiffness levels in non-smokers dropped by 3.6%. However, smokers showed the reverse and that was after exercise that their arterial stiffness increased by 2%. After nicotine gum, it increased by 12%. After one cigarette, it increased by 24%.
So in other words, it shows that even light smoking in what would be considered young healthy adults can damage the arteries, and this in turn compromises the ability of their bodies to cope with physical stress (e.g., running, climbing, etc.).
Smoking usually begins in the teen years and causes smokers to die prematurely each year due to their tobacco use. It is known that 90% of teenagers who smoke as few as 3-4 cigarettes a day will be trapped into a lifelong habit lasting 35-40 years of regular smoking.
The smoking habit will contribute to the build-up of plaque in the arteries, increase risk of blood clots, increased blood pressure, reduced oxygen in the blood. All of this leads to the heart working harder which then leads to the risk of strokes.
If you or you know of someone that wishes to quit smoking without the ordinary withdrawal symptoms, go to this site and order the Tobacpak: Formulated Supplements to Stop Smoking