A Guarantee to Overcome Drug Addictions
In many treatment and group settings, you will often hear concepts such as:
"Relapse is part of recovery,"
"You have no power over your addiction," and, even worse,
"Addiction is a disease, there is no cure for it, and the best you can do is learn how to live with your disease."
These are all lies! . . . and the research proves it.
Did you know that most treatment programs have less than a 25% success rate!!
Why would anyone enter a program that had such a failure rate??
Why waste your time and money??
I will show you how you can improve your chances of success to 75% – 80% and more!!

---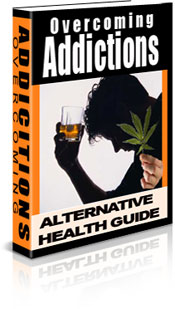 The Overcoming Addictions PDF eBook outlines 5 crucial treatment phases that a program must have for you (or your loved one) to have the best chance of a successful recovery.


Features and Benefits of the Program

You will learn what the 5 critical phases of treatment are and what you need to do in each phase to have a successful recovery.


There are four primary causes of the biochemical imbalances that are at the root of the substance cravings. You will find out what these are and which ones affect you.
There are some conditions when it is absolutely critical that you not attempt to detox on your own. I tell you what those are and what you should do.

There are four key groups of neurotransmitters related to substance abuse. You will learn what they are and what affects them.

There are 20 essential nutrients that you must have. You will learn what they are and which ones are very effective for specific health conditions.

Some nutrients are excellent in reducing drug cravings. You will learn what is best for you.


One method of detox is showing dramatic results in a short amount of time. You will learn what that is.
In some cases, it might be determined that you may have to enter a treatment facility either as an in-patient or out-patient basis. In case you do, I list the top facilities in the country that offer the type of comprehensive program that treats the whole person and not just the symptoms of substance abuse. By treating the entire person – mind, body and spirit, you have the best chance of success.
Whichever way is best for you, you will have the information you need to make sure you are taking the correct action for full recovery in the quickest time frame possible.

Note: The information in the Addictions eBook only covers the abuse of substances such as alcohol, street drugs and prescription drugs.
---
"Lyn Bramich's material is derived from the latest research on drug abuse and addictions. My main interest was learning about amino acids and how they relate to neurotransmitters. After reading the material she has compiled from state of the art researchers in this field, I have literally told every one I know about it. Anyone who has a drug abuse problem could greatly benefit from this information."
Carolyn Hackett, R.N., Napa County, California
Order by Credit Card or Paypal below – Only $9.95
---
ORDER NOW AND MAKE A DIFFERENCE IN YOUR LIFE OR A LOVED ONE!