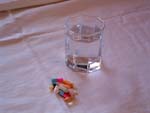 Teens abuse prescription drugs more than any other illicit drug, except marijuana; more than cocaine, heroin, and methamphetamine combined.
Drug treatment admissions for prescription painkillers has increased more than 300 percent over the past 10 years. Teens are abusing prescription drugs because many believe the myth that these drugs provide a "safe" high. It is most troubling that a majority of teens who abuse prescription drugs say they are easy to obtain and many times free.
When prescription painkillers are used as prescribed, they can be of benefit. But now their abuse has become a serious public health concern along with an even greater concern for prescription drugs addictions.
Prescription drugs can be found in practically every home and parents can have immediate influence on stopping their teen from prescription drug abuse. Only a third of parents have discussed the risks of prescription drugs with their teen.
The need has never been greater for parents to learn the facts about this dangerous behavior. There is a misconception with parents that prescription medicines are safer than using street drugs and that is NOT true.
For more information, visit TheAntiDrug.com
Check the link to review our product on Overcoming drug addictions