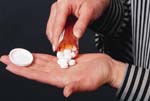 Researchers from the Stanford University School of Medicine think it's high time that prescription drug labeling tell you what isn't known. This sounds like a great new idea!
The researchers want the U.S. Food and Drug Administration to require drug manufacturers to state how new medications compare with similar, existing treatments. In many instance, these statements would indicate that there is no evidence that a new drug is more effective than older ones.
They believe this information would make patients and health-care insurers less likely to pay for newer treatments without evidence that they lead to improved patient outcomes. It would also spur drug and medical-device companies to design more informative clinical trials to test a new product's superiority over existing therapies.
"Drug and device manufacturers benefit from an unacknowledged information gap that develops as more and more products are tested against a placebo, but not each other."
The researchers note that the FDA doesn't require the inclusion of statements regarding how a new drug or device compares with existing treatments. Instead, treatments are simply required to perform better than a placebo without harmful side effects.
The public's appetite for the latest drugs might be curbed if patients understood that new treatments aren't necessarily more effective than existing ones. The Stanford researchers recommend that the FDA require new treatments to carry a label that would read, for instance: "Although this drug has been shown to lower blood pressure more effectively than a placebo, it has not been shown to be more effective than other members of the same drug class."
More info: sciencedaily.com/releases/2009/08/090812181433.htm