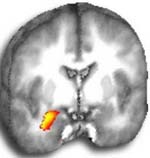 Studies have shown that people who take prescriptions for an anxiety disorder don't get much help from it. And doctors have no definitive way to predict who will, and who won't, benefit from each anti-anxiety prescription they write.
You are like a medical experiment or guinea pig.
K. Luan Phan, M.D., University of Michigan Medical School researcher, and his team are working to bring more certainty to how doctors and patients choose anxiety treatments, by probing the connection between brain activity, genetics and medication. According to the Journal of Neuroscience, he is reporting intriguing findings from brain imaging studies with marijuana users and making comparisons with prescription drugs such as Zoloft.
Dr. Phan notes that some individuals may be using illicit drugs and misusing prescribed drugs to alleviate their anxiety.
Wow – what a revelation! I call this self medication.
The THC study links three key domains of human behavior: a specific region of the brain, the function of that area, and a neurochemical agent (THC) that appears to act on them. The new sertraline study will take it one step further, by looking at genetics too. Specifically, Phan and his colleagues will look for variations ("functional polymorphisms") among several genes in individual subjects. Key among them is the gene (5-HTTLPR) that encodes the serotonin transporter protein that transports the neurotransmitter serotonin in and out of brain cells. Serotonin has long been known to be involved in depression and anxiety, and indeed most modern antidepressant and anti-anxiety drugs (such as SSRIs) work on this transporter.
More info: University of Michigan Health System. "Marijuana, Genes, Medicines And Brain Scans Help Scientists Find Better Anxiety Treatments." ScienceDaily 22 April 2008. 24 April 2008 .
(Credit: Brain Image courtesy of University of Michigan Health System)