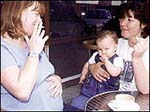 There is a greater risk of teenagers developing psychotic symptoms if their mothers smoked during the pregnancy. There is a direct link between tobacco use by mothers and psychotic symptoms which is being shown by new researched published in the October issue of the British Journal of Psychiatry.
Researchers from several universities in Britain (Cardiff, Bristol, Warwick, Nottingham) studied 6300 12-year olds for psychotic-like symptoms (i.e., delusions, hallucinations). Just over 11% (or 734 children), showed definite or suspected symptoms of psychosis.
There is no doubt that smoking during pregnancy marks an increased risk of psychotic symptoms in children as found by the researchers.
The study also included the examination and the effects of alcohol and cannabis (marijuana) use during pregnancy. There was an increase of psychotic symptoms with mothers who drank more than 21 units of alcohol a week during the early part of their pregnancy. Only a few of the mothers in the study had smoked cannabis and this was not found to have any significant link with psychotic symptoms.
The reasons are uncertain as to why there is a link between mothers smoking during pregnancy and psychotic symptoms. The research shows that exposure to tobacco in the womb may have an indirect impact by affecting the child's cognition, attention and impulsiveness. Further studies are being conducted to investigate how this exposure to tobacco affects the development and function of the child's brain.
The statistics shows that about 10% of women in the U.S. still smoke during pregnancy. The numbers are higher in Britain showing about 15-20% of women still smoking during pregnancy.
If the future generations of women are to have healthy children with healthy brains, then it is only common sense that women take this as a warning to protect their unborn. Otherwise, there will be a risk factor of developing psychotic experiences with future populations.
Protect your health and your unborn child . . . . quit smoking with guarantee results by going to this Smoking Cessation Formula. Guaranteed results.