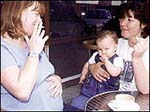 Smoking can have numerous negative effects. Information gathered from various research studies point that out.
In one such study, Dr. Gary Shaw of the March of Dimes and colleagues from institutes in Norway, Holland, and Texas, studied serum samples collected between 2003 and 2005 from pregnant women enrolled in the California Expanded AFP (alpha fetoprotein) program. The researchers measured the levels of cotinine, a metabolite of nicotine, to determine whether the mothers smoked during pregnancy. They found that women who smoked during pregnancy were nearly 2.5 times more likely to have babies with oral clefts.
According to Dr. Shaw, "Babies with oral clefts require significant medical care. Often necessary are four surgeries by age two, and they may have speech, hearing, and feeding problems."
In a related study, Dr. Laura Stroud and colleagues from Brown University studied the effects of cigarette smoke exposure on infant behavior. The researchers studied 56 otherwise healthy infants and used questionnaires and cotinine measurements to determine cigarette smoke exposure. They found that the 28 babies who had been exposed to cigarette smoke were more irritable and difficult to sooth.
Other studies have shown that the consequences of maternal smoke exposure during pregnancy can range from higher rates of prematurity to increased risk of sudden infant death syndrome.
These studies show that smoking is a major pediatric problem.
Want to quit smoking? Check this >> How to quit smoking