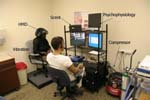 Most addicts have a difficult time coping with life, so here is a new idea to think about for drug addiction treatment . . .
A new study by University of Houston Associate Professor Patrick Bordnick found that a virtual reality (VR) environment can provide the climate necessary to spark an alcohol craving so that patients can practice how to say "no" in a realistic and safe setting.
He investigated VR as a tool for assessing and treating addictions. He studied 40 alcohol-dependent people who were not receiving treatment (32 men and eight women). Wearing a VR helmet, each was guided through 18 minutes of virtual social environments that included drinking.
The participant's drink of choice was included in each scene. Using a game pad, each rated his or her cravings and attention to the alcohol details in each room. Each then was interviewed following the experience.
"What we found was that the VR environments were real enough that their cravings were intensified. So, now we can develop coping skills, practice them in those very realistic environments until those skills are working tools for them to use in real life," Bordnick said.