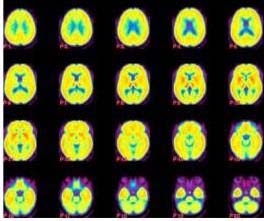 Methamphetamine is one of the most addictive and neurotoxic drugs of abuse and it produces large increases in dopamine, a brain chemical associated with feelings of pleasure and reward — both by increasing dopamine's release from nerve cells and by blocking its reuptake.
Using positron emission tomography (PET) to track tracer doses of methamphetamine in humans' brains, scientists at the U.S. Department of Energy's (DOE) Brookhaven National Laboratory found that meth was slow to clear the brain.
"This slow clearance of methamphetamine from such widespread brain regions may help explain why the drug has such long-lasting behavioral and neurotoxic effects." Methamphetamine is known to produce lasting damage not only to dopamine cells but also to other brain regions, including white matter, that are not part of the dopamine network" stated chemist Joanna Fowler, lead author on the study.