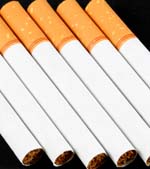 This is an amazing research report about nicotine addiction I discovered.
Research has revealed that the nicotine from one cigarette is enough to saturate the nicotine receptors in the human brain. "Laboratory experiments confirm that nicotine alters the structure and function of the brain within a day of the very first dose. In humans, nicotine-induced alterations in the brain can trigger addiction with the first cigarette," commented Joseph R. DiFranza, MD, professor of family medicine & community health at the University of Massachusetts Medical School and leader of the research team. "Nobody expects to get addicted from smoking one cigarette." Many smokers struggle for a lifetime trying to overcome nicotine addiction.
Symptoms of nicotine addiction can appear when youth are smoking as little as one cigarette per month. At first, one cigarette will relieve the craving produced by nicotine withdrawal for weeks, but as tolerance to nicotine builds, the smoker finds that he or she must smoke ever more frequently to cope with withdrawal.