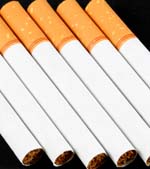 According to recent research, cigarette companies have manipulated the menthol content in cigarettes to lure young people into smoking.
Menthol masks the harshness and irritation of cigarettes, allowing delivery of an effective dose of nicotine, the addictive chemical in cigarettes. There was a deliberate strategy to recruit and addict young smokers by adjusting menthol to create a milder experience for the first time smoker.
For example, Marlboro introduced Marlboro Milds in 2000, with a lower menthol concentration while raising the menthol content in Marlboro Menthol, favored by older smokers. Menthol brands with the greatest market share growth among young adults had the lowest menthol levels (Marlboro Milds and Newport) among the brands tested.
This is another example of the cynical behavior of the tobacco industry to hook teens and African Americans to a deadly addiction. This is after the industry told the American public it had changed its marketing practices.