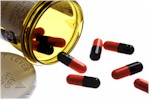 Dr. Oz was recently featured on the Oprah Show and the topic was about prescription drug addiction. Dr. Oz is quoted as saying that, "what started out as a legitimate prescription for pills from a doctor now has 6 million Americans addicted".
If we know that Americans are hooked on prescription drugs, then why are we bombarded daily with 'drug ads' repeatedly throughout daytime programming? We've never had so many ads before and why do you think that is?
The answer is 'money' and it is what the pharmaceutical companies are spending to have direct-to-consumer advertising. This type of advertising has more than tripled between 1997 and 2005 and the amount spent has grown from $1.3 billion to $4.2 billion. The advertising has increased ever since the U.S. Food and Drug Administration (FDA) relaxed the restrictions on governing drug ads. Unbelievable – isn't it ?!
I'm willing to bet that most Americans don't know that ONLY the United States and New Zealand allow pharmaceutical companies to advertise medications directly to consumers on television and this is according to the FDA.