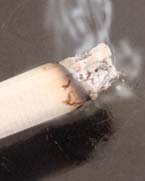 A five year study funded by The Canadian Cancer Society and carried out by the Unversity of Montreal, determined that kids begin to think about quitting smoking very soon after their first puffs but increasingly find it difficult to do.
As cravings, withdrawal symptoms and tolerance grew, novice smokers began to lose confidence in their ability to quit. After two years, many had discovered that breaking the habit was not so easy. In the course of the study, more than 70 percent of the teens wanted to quit, but only 19 percent actually managed to stop smoking for at least a year.
The research was published in the American Journal of Public Health by Dr Jennifer O'Loughlin. She is a professor in the Department of Social and Preventive Medicine at the University of Montreal and Canada Research Chair in the Early Determinants of Adult Chronic Disease.
Dr. O'Loughlin said the study shows that there are milestones in the process of becoming addicted to tobacco. Understanding the steps that lead to addiction could uncover critical periods when kids might be most open to education and support.
"I think there's a narrow window of opportunity in there before full-blown addiction that we're not taking into account in our prevention and cessation interventions aimed at kids," O'Loughlin said.
More info: www.ajph.org/cgi/content/abstract/AJPH.2007.128629v1