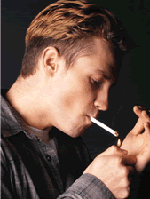 Researchers at Weill Cornell Medical College in New York have been studying the ways that teens are influenced by their peers and parents when it comes to smoking, drinking and using marijuana in a combined manner. The results show that teenagers attitudes toward smoking are influencing them in the use of multiple types of drugs whether it be drinking, smoking or using marijuana.
The results also show that it affects girls differently than boys. With girls, the emphasis stems from their friends and the permissive attitudes that exist within their social groups.
On the other hand, for boys, the drug use is predicted by how they perceived smoking to be socially prevalent in larger age groups and not just among their friends. If smoking is socially acceptable and widely practiced, then teenagers are much more like to participate in smoking, drinking and possibly use marijuana.
The researchers study showed that when teenagers' friends drink alcohol or smoke OR when their parents had lax attitudes toward drinking, then they were more prone to participate. With some teenagers, there will be an inability to refuse drugs and consequently get pulled into the circle.
It almost goes without saying, that 'parents are role models' and what they think matters and should therefore the negatives affects of smoking, use of drugs should be addressed with their sons/daughters. Peer pressure is such a heavy influence during the teen years and it is so important for parents to stay involved and keep the dialogue open regarding the use of smoking and drug use.
Educating the teenagers as to the ill health affects of smoking and drug use should be ongoing either coming from educators or parents.
Current studies are being done that is showing the important relationship between smoking, drinking and marijuana use and how this can spill over from the teen years into adulthood. The findings show that prevention programs need to focus on all of these aspects instead of focusing on any one drug.
If you or someone you know has an addiction to smoking, drinking or marijuana use, there can be an 'end' to this type of behavior. Visit the link: AddictionSolutionCenter.com