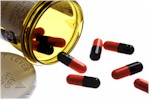 Dr. Oz was recently featured on the Oprah Show and the topic was about prescription drug addiction. Dr. Oz is quoted as saying that, "what started out as a legitimate prescription for pills from a doctor now has 6 million Americans addicted".
If we know that Americans are hooked on prescription drugs, then why are we bombarded daily with 'drug ads' repeatedly throughout daytime programming? We've never had so many ads before and why do you think that is?
The answer is 'money' and it is what the pharmaceutical companies are spending to have direct-to-consumer advertising. This type of advertising has more than tripled between 1997 and 2005 and the amount spent has grown from $1.3 billion to $4.2 billion. The advertising has increased ever since the U.S. Food and Drug Administration (FDA) relaxed the restrictions on governing drug ads. Unbelievable – isn't it ?!
I'm willing to bet that most Americans don't know that ONLY the United States and New Zealand allow pharmaceutical companies to advertise medications directly to consumers on television and this is according to the FDA.
According to doctors and patient advocates, the companies are getting very good returns on their investment. Spending money on prescription drugs has grown faster than any other type of health-care spending in the U.S. This information is coming from CalPIRG (California Public Interest Research Group), which is a public advocacy group.
At least there is a growing concern in the medical community that the drug ads could be harmful to both patients and the health-care system.
It probably can be said that the pharmaceutical companies and doctors alike want people to make informed decisions so they understand risks and benefits of medical treatments, however, the benefit information in the ads quite often is very general and vague. The ads appeal to emotions and tend to romanticize drugs that everything will seem better IF you take 'this or that drug'! The public viewer needs to keep in mind, these are actors that are paid to look happy and sell whatever drug they are pitching!
With health costs rising, especially for senior citizens on Medicare, one has to ask if all these drug ads are driving our medical costs up and over-medicating by over-prescribing the American public. The next concern is how much time is spent with the patient by the doctor just to cover ALL the side effects that any one particular drug might cause the patient.
Vioxx is the perfect example as to how much it was advertised and prescribed only to be pulled off the pharmacy shelves because it killed thousands of people. Did the FDA do a 'test-drive' on this drug before they approved it?
With the health care reform on everyone's mind these days, it should be especially noted that drug ads are NOT serving the public in their best interest. The drug ads are only adding to the already out-of-control drug problem in America.
If you are having a drug addiction problem, visit the following website for your solution: Prescription Drug Recovery