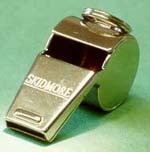 A six-year legal battle against Pfizer Inc just made whistleblower John Kopchinski a rich man. Taking on a corporate giant such as Pfizer can be overwhelming, but Kopchinski was motivated by wanting the truth to be told.
The Gulf War veteran and former Pfizer sales representative will earn more than $51.5 million as a result of his whistleblower lawsuit against the world's biggest drugmaker and the record penalty the company must pay the U.S. government for its massive marketing transgressions.
Kopchinski was appalled by Pfizer's tactics in selling the pain drug Bextra and filed a "qui tam" lawsuit in 2003, sparking federal and state probes. The company is paying $2.3 billion in civil and criminal penalties and is pleading guilty to a felony charge for promoting Bextra and 12 other drugs for unapproved uses and doses.
Kopchinski was fired by Pfizer in 2003 when he wouldn't promote drugs to increase the company's profits. This was two years before the company had to pull Bextra from the market over concerns that it raised the risk of heart attacks and strokes.
Under a later Pfizer regime, Kopchinski was selling the epilepsy drug Neurontin when a previous whistleblower suit was filed against the company over similar illegal promotion tactics that led to stiff penalties and a form of corporate probation.
At the time Kopchinski was told by managers that the Neurontin suit would be in the news and any physicians who asked questions should be told it was just complaints from a disgruntled former employee. Ironically, after filing the Bextra suit, "I was the disgruntled former employee," he said.
Despite the potential for huge financial rewards, life can be hellish for whistleblowers. In any event, the size of the whistleblower rewards this week are already having an impact!
I believe that you are going to hear more and more in the future about the dishonesty of drug companies! They even have doctors fake research for them!
If you have a drug abuse problem, get your solution here:
AddictionSolutionCenter.com