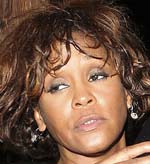 Another famous entertainer – Whitney Houston – dies, apparently of drugs and alcohol. Another senseless death that could have been prevented if she had received effective drug addiction treatment.
The press has reported that it's likely she died of a combination of prescription drugs and alcohol.
Updated News March 22nd:
The autopsy toxicology report found that "cocaine and metabolites" contributed to her death, but it also found other substances in her body including marijuana, Xanax, Flexiril, and Benadryl.
It has also been reported that she had entered rehab for the third time last year! Most rehab centers are just revolving doors because they do not get to the heart of the problem – healing the brain.
There is a long list of entertainers who were "hooked" on drugs including Marilyn Monroe, Elvis Presley, Heath Ledger, Michael Jackson, and Amy Winehouse. When are people going to wake up?
I invite you to acquire my Alternative Health Guide to Overcoming Addictions to learn the truth about how to successfully overcome a drug addiction. It doesn't matter if it is "legal drugs" (tobacco & alcohol), prescription drugs or "street drugs", the solutions are available.
Don't waste your money on treatments that don't work. Act now.